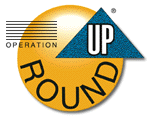 Through Operation Round Up®, Fairfield Electric Cooperative members join together to help neighbors facing crises. Voluntary contributions of approximately $6 a year per member help these people get back on their feet. With Operation RoundUp, small change changes lives.
How can you help?
We make it easy. Sign up and we'll simply round your electric bill up to the next highest dollar each month. The extra change - an average of only 50 cents a month or $6 a year - is your contribution to the program. If you wish to discontinue your contributions at any time, simply contact us.
How are the funds used?
Operation Round Up® funds stay right here in the cooperative's service area. Guidelines for awarding this money address needs such as food, clothing, shelter, health care and other community services. Funds are never used for political or administrative purposes. In the past, we have used funds to help the following:
people suffering from catastrophic illness

people living with long-term disabilities

abused women and other victims of crime

families burned out of their homes

local fire departments

local rescue squads

local law enforcement

community libraries
Who distributes the funds?
The program is administered by the Operation Round Up® Trust Board, an independent board of community leaders who establish the policies for granting Operation Round Up® funds. To date, more than $1.3 million has been distributed to organizations and individuals in our area.
Contributions to Operation Round Up® are tax deductible. Total contributions for the year are printed on members December electric bill.
What do I do if I need help?
If you're facing crisis and live in Fairfield Electric Cooperative's territory or within five miles of one of our lines, Operation Round Up® may be able to help. To apply, call our office at 635-4621 or 1-800-628-0336 or write to us at Fairfield Electric Cooperative, Inc., P.O. Box 2500, Blythewood, SC 29016. Our board will review your application at their next meeting. If you're approved, a check(s) will be mailed to your supplier/vendor.